Samsung ATIV SmartPC hands-on
5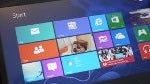 With a cursory look at Samsung's upcoming fall lineup for AT&T, it's already stacked with many smartphones that are incoming very soon, but for those who are eager to move up to a full-fledged Windows 8 device in the near, they might want to keep an eye out for the
Samsung ATIV SmartPC
. Naturally, the star of the show with this one is the fact that it'll be providing all the wealth of functionality attached with Windows 8 – with a trial version of Microsoft Office 2013 thrown into the mix as well to give users a solid dose of productivity on the go.
Indeed, for those who have never experienced Windows Phone beforehand, this Windows 8 tablet will surely be seen as somewhat alien and foreign, but thankfully enough, you can switch from its touch experience to the usual legacy Windows UI we're all so familiar with. Specs-wise, there's a lot to like about this bountiful beauty, as it features an
11.6" HD PLS display, dual-core 1.5GHz Intel Clover Trail processor, and 64GB of internal storage
.
To further sweeten its load, it's outfitted to offer connectivity to
AT&T's 4G LTE
network, which means you can surf the web with blistering speeds in tow. On the Android side, Samsung's Galaxy Tab series has been a staple in the tablet world, so it'll be interesting how this
ATIV SmartPC will fare in the long run
.