Sample shows Android gives developers a headache, devs still prefer it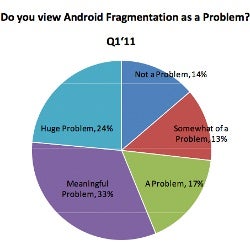 App developers are an integral part of every mobile OS, and a survey conducted by William Powers shows that the majority of devs see the fragmentation within Android (for more info see the picture on the left) and its Market as a major problem, while iOS gets the best grades among all mobile OSs in the "ease of development", "app visibility" and "ability to get paid" categories.
250 working developers took part in this sample, but despite the negative opinions expressed towards Android, it still attracts a bigger percent of devs (which translates to 71%) than iOS (it scores 62%).
Some of the conclusions that can be made from this research are that Android fragmentation is a serious issue for developers, and that the same applies to the fragmentation of the Android Market. It's reported that "generally developers seem to prefer a unified, single store experience like Apple's App Store."
Also, iOS has the
edge
over Android when it comes to ease of development, but at least the green robot is said to be far ahead of BlackBerry OS and Symbian in this category. The same is not valid, however, for app visibility. As with some of the previous categories iOS is the leader, but the second place is reserved for BB OS, while Android is still lagging behind. Reportedly, this is at least partly because there is a huge number of "junk apps" in the Android Market.
Last, but not least comes the money problem, or more specifically the potential developers have to earn money from their work. iOS is once again placed first, while BB OS comes second.
This sample seems to indicate that devs dislike many aspects of Android, but the fact is this doesn't stop most of them to write apps for Google's mobile OS.
source:
Fortune
via
Droid Life