Samorost 3 first trailer teases a game with outworldly, super cool graphics and more
3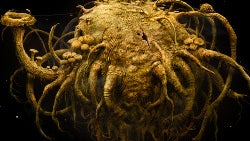 There is something about games with such outstanding, outworldly and weirdly beautiful graphics that has us secretly dreaming of one day witness those fantasy worlds (even if it was via the wonders of virtual reality), and the upcoming iOS game Samorost 3 is exactly that type of a dreamy creation.
Set in the best traditions of Samorost (and also reminding us a lot of Machinarium, another game by the very same Amanita Design studio based in the Czech Republic) with elaborate mechanical puzzles playing out in a nocturnal fantasy world filled with weird creatures, Samorost 3 tells the story of your main hero, the "gnome," who has a dog, and just happens to be a masterful clarinet player.
The gameplay unwinds across multi-platform landscapes filled with outworldly characters, and puzzles that you have to solve to advance further in your explorations.
We'll learn more about the game soon, as it is expected to arrive later this year: first on Windows and OS X, and then, on iOS and Android. You can see the first official trailer right below, along with some screenshots from the game.