SEGA releases Zaxxon Escape
6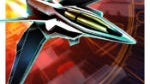 Depending on how far back you go with gaming, you may remember a classic from the early 80s called Zaxxon, which was an isometric arcade shooter where you were piloting a ship out of an enemy base and shooting lots of stuff all the way. Well, SEGA has released a reboot of the franchise called Zaxxon Escape, and while it is a pretty good game, it may not be what you expect.
Zaxxon Escape isn't an arcade shooter anymore, let's just start there. Instead, it is more like the endless chase sequence of Temple Run. Zaxxon Escape is full 3D and has you escaping from an enemy base that is in the process of exploding. The explosion is chasing you and you have to fly out with the standard swipe and tap gestures, collecting coins which can be used to purchase boosts. Where Zaxxon Escape moves beyond Temple Run is in ramping up the use of your device's accelerometer to control the yaw of your ship through passageways.
This new mechanic can be fun, but fair warning: it can get unwieldy with larger devices, because sometimes you have to rotate your device completely around to get the best angle. This is no problem with a phone, but can be awkward even on a 7" tablet like the Nexus 7, and can only get worse on a 10" tablet. Additionally, the accelerometer control can be a little awkward, because there is no option to invert the control scheme. As is, the way it works is that tilting your device to the right makes the ship rotate counterclockwise, and there is no way to change that. You can get used to it, but it can be frustrating too.