Russian man tries to eat his tablet to a disastrous effect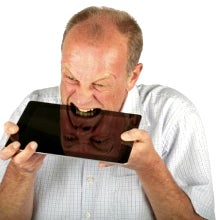 "Kids, don't eat tablet parts" is hardly a warning on top of every parent's mind, but maybe they should now start stressing about this matter, too, after a Russian man was caught by the police eating the glass and components of his broken slate. The police in St Petersburg was called about 5pm local time yesterday to check on a 41-year-old unemployed man who was apparently throwing furniture out of the window of his apartment.
When the police climbed up to see what's happening, the guy started acting out in defiance against the officers who tried to apprehend him, and soon began demonstratively eating broken glass and other bits from a shattered tablet of his own. Needless to say, the police tried to stop him from munching on the hazardous electronics, but apparently he had wolfed down too much already, lost consciousness, and passed away before the emergency services that were called, arrived at the scene. The police report didn't specify what kind of tablet it was, but we'd wager to bet that any slate will do this kind of damage if eaten, be it an iOS or Android device, no matter how much vodka you chase it down with.