Rumors: Apple Watch to cost between $500 and $5000, first third-party accessory pictured
35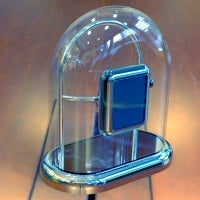 A French leak
artiste
has provided what is, in reality, the first proper Apple Watch leak to surface since the device's inception. A purported pricing scheme and a first glimpse of a third-party accessory have been un-shrouded from Apple secrecy. If the leakster is to be trusted (and the French have had a commendable reputation when it comes to leaking Apple), then the Apple Watch Stainless Steel edition (polished or black) will be sold for $500.
If you thought that's steep, you better not read ahead. The luxury edition in natural or pink gold will be priced between $4000 and $5000. Reportedly, these prices cover only the watch itself. The strap is bought separately, and initially, Apple will offer six straps that fit all Watch editions. Pricing for those is unknown.
As for release date, the French informant spoke of a February 14 launch. This makes sense, considering previous rumors described an early Spring release.
Now, about that accessory you're seeing below. What is this creature? Allegedly, this is a magnetic cradle that supports the watch while acting as a fancy item to have on your desk. It's not known whether it has any charging abilities. Speaking of charging, the watch's battery is said to be non-removable. Typical Apple.
If the rumors spell truth, then the Apple Watch will be the most expensive brand-name smartwatch on the market. Offerings from the likes of Samsung, LG, Motorola, and ASUS don't go beyond the $350 price tag.