Root users get an easier way to access Jelly Bean multiple-user options
4
Earlier this month it was discovered that Android 4.1 Jelly Bean has the beginnings of a multiple-user system built-in, and that the features could even be accessed with a
bit of command line work
. But now, there's a new app that adds a GUI interface to make the whole process much easier.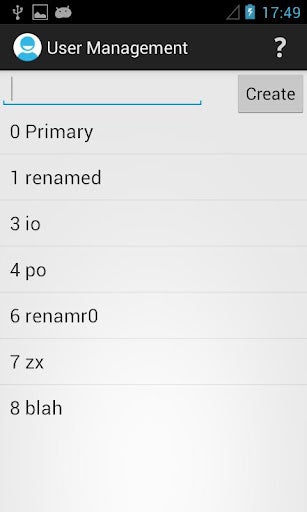 The app is called User Management, and obviously only works on Android 4.1, since the user management options didn't exist before that. It also requires root permissions in order to automate the terminal commands that get you all the goodies. The app makes it very easy to create new users, rename users, switch between profiles, and delete profiles.
A bunch of users on the XDA forum post, and a few commenters on the Play Store listing do say that the app works overall, but we found it to be a bit buggy on both a GSM Galaxy Nexus and Nexus 7. That's to be expected. And, of course the underlying multi-user system in Jelly Bean is fairly thin, so you may not realize the difference when you switch users at first. Essentially, all it does is create separate user data for the apps on your device. Still, it's a pretty cool thing to play around with, and maybe some entrepreneuring developers can make more out of it.
Recommended Stories