RollerCoaster Tycoon 4 Mobile is now barrel rolling on iTunes
9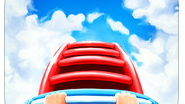 If you dig both roller coasters and computer games, chances are that you have discovered the RollerCoaster Tycoon series a long, long time ago. These classic games allow players to build a theme park from scratch and design thrilling nausea-causing roller coasters. Up until now, RCT was only available on desktop platforms and mobile gamers were somewhat left out of the equation. Introducing RollerCoaster Tycoon 4 Mobile (RCT 4 Mobile) for iOS, which is the first game of the series that makes it to a mobile platform.
Similar to its desktop counterpart, RCT 4 Mobile requires you to step into the shoes of a rich entrepreneur and build your own theme park along with all the rides, infrastructure, attractions, stalls, and more. In order to succeed in RCT 4, you need to transform your park into a thriving and successful one. This means that you need to earn as much money as possible from the kids that visit your park and ride your roller coasters and various attractions.
But the most intriguing and funniest part of all RCT games has been the ability to unleash your imagination and design various roller coaster rides. RCT 4 Mobile also comes with this prominent feature of the game series. This means that you can create whatever ludicrous roller coaster you wish and the only thing that could limit you are your funds and... gravity itself, of course!
RCT 4 Mobile is priced at $2.99 and, sadly, comes with lots of in-app purchases and wait timers on board. Would that ensure a bumpy ride for this new iOS title? Only time will tell. Still, the developer states that the game comes pre-loaded with $5.00 worth of in-game currency – a small consolation for fans of the classic series... isn't it?