Robinhood gets $3M in funding to democratize stock trading
3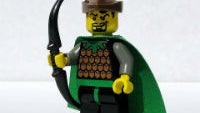 There has been a good amount of competition in the stock trading space with options like Scottrade, E*Trade, Ameritrade, and plenty of others, but one thing that hasn't changed much are the fees that surround trading stocks online. But, startup Robinhood is looking to change that with an interesting strategy that will be beginning on mobile platforms first.
Robinhood has just announced the close of a $3 million seed round which ended in October, and also announced that its subsidiary, Robinhood Financial LLC, has received Financial Industry Regulatory Agency (FINRA) approval to be a stock broker. The company plans to use the investment and FINRA approval to build a trading platform which will start on mobile and offer stock trading with zero commission. Most trading services charge somewhere around $10 per trade, but because the company performing the trades are pushing so many transactions, it usually pays just a few cents per trade and takes the rest as profit.
Robinhood is planning to upend that practice and instead attempt to make money at first through margin trading, which is the practice of lending investment capital to traders who wish to invest beyond the value of their portfolio. This is quite risky for both parties involved, but it could certainly help bring investing to a wider customer base.
Robinhood is planning a slow rollout of an iPhone app starting in January 2014 with iPad and Android apps to follow within the first half of the year.