Rhapsody adds offline playback for Android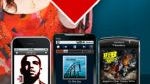 Rhapsody
, for those living under a rock, is a streaming music subscription service that allows you to stream or download any of their 10.6 million songs for around $10 per month. They added offline playback to their
iOS
service back in April, but the newly released version for
Android
was still streaming-only.
Rhapsody has now extended their offline listening mode to Android users. This means you can
download tracks
from their enormous selection, and listen to them even without a network connection. Rhapsody's chief product officer Brenda Benzing says that "The ability to download music to your favorite device mimics the experience millions of consumers have enjoyed on MP3 players for years, which makes the subscription model even more attractive to them."
We think she's referring to the fact that many (if not most) users don't pay for their music any more. Even though the RIAA has progressively cracked down on illegal downloads, the
subscription
service offers a great loophole. Since users aren't paying for their music, record companies are grateful for the smaller profits they see from subscription revenue.
Rhapsody comes in two different varieties. 'Rhapsody Premier' is the basic service, which offers unlimited listening, and supports one mobile device and transfers to one MP3 player for $9.99 per month. The 'Rhapsody Premier Plus' version adds the ability to listen on 3 mobile devices, and transfer music to 3 MP3 players, for $14.99 per month. They also offer individual unprotected downloads ranging from $0.69 to $1.29.
source:
PR Newswire
via
MobileBurn