Reuters: last-minute iPhone 6 screen redesign puts production in a frenzy, might affect supply at launch
66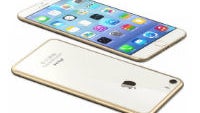 After issues with manufacturing of the super-thin new iPhone display packages, a deeper problem has been putting Apple's supply chain in a frenzy to meet deadlines, just a few weeks before the grand
iPhone 6
unveiling, reports Reuters. It's not simply a matter of retooling and polishing the production process to accommodate Apple's stringent quality policies this time, supply chain sources say, but an actual problem with a component design itself. The issue has been going on for about a month, going into July, and had to do with the backlighting, clarified the insiders. Apparently, Apple wanted to have the thinnest iPhone ever, and skipped on a layer of the backlighting film to make that possible. The panel's brightness, however, was nowhere near Apple's standards then, so the company had to revert to using double-layered backlighting again, while suppliers were twiddling their thumbs, anticipating the final design.
The fact that the piece had to be redesigned means that Apple's suppliers lost precious time to manufacture new panels, and might miss on the contracted quantity for the launch of Apple's most important iPhone revamp in the history of the franchise. The screen of the iPhone 6 is expected to grow to 4.7 inches this year, while
the device should be the thinnest of all iPhones so far
, at about 7mm or below in girth. This has no doubt put enough pressure on suppliers already, and now they have to catch up for a few weeks of halted production. Hopefully this will not affect the availability of the iPhone 6 at launch, like a similar issue did for the
iPhone 5
, when demand overwhelmed supply for months after the release date.