Retina Display will allow the iPad 3 to invade "mission critical" professions
10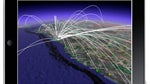 Adoption of the iPad and iPad 2 by businesses has been well documented, but the expected bump in screen resolution on the iPad 3 will allow the device to be used in professional settings that demand a higher level of visual precision.
One such role would be displaying in-route charts on longer distance flight. While
United Airlines
has already replaced much of their bulky paperwork with iPads, the FCC restricts airlines from using them to display flight charts due to the lack of resolution. Retina Displays would allow pilots to use an iPad take on that role, according to Kevin Hiatt of the Flight Safety Foundation.
A higher resolution display would likely find rapid adoption amongst medical imaging professionals as well. Radiologists are currently allowed to use the iPad as a mobile diagnoses platform, but not as a replacement for full workstations. Higher resolution displays should expand the scenarios in which an iPad 3 could be used as the primary tool for making diagnoses.
Apple is expected to be first to a tablet to market with a Retina Display-type pixel density. By providing higher resolution imaging to professionals in medical, aviation, and other fields Apple could bolster its commanding lead in several business markets. It appears that Apple has been planning to adopt high-resolution displays since early 2011, but has had problems getting them built in
sufficient quantities
.
If they can get the kinks worked out of their production pipeline the rewards could be great for both Apple and business professionals alike.
source:
AppleInsider