Restaurant offers 50% off if you turn off your phone
20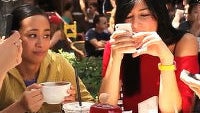 We've all either seen it happen, or been part of the problem: you go out to eat and rather than interacting with the people that they're with at the restaurant, people are either talking on their phone, surfing the web, checking Facebook or Instagram, or maybe even playing a game. Well, at least one restaurant owner wants it all to stop, so he is offering a substantial incentive.
Jawdat Ibrahim owns the restaurant Abu Ghosh, which is located about 10 km outside of Jerusalem. He says that he is tired of people talking on cell phones, or ignoring each other, and he has a creative solution: if you turn off your phone (and presumably you have to also leave it off throughout the meal), you'll get 50% off of your bill. Ibrahim said about it all:
Technology is very good. But just when you eat, just especially when you are with your family and your friends, you can just wait for half an hour and enjoy the food and enjoy the company. A lot of people, they sit down and they don't enjoy their food, their company.
Apparently, Ibrahim says that the issue has gotten so bad in recent years and people have been so focused on their smartphones that they eventually ask for their food to be reheated, because they haven't even bothered to eat. Although, we're sure that they have at least taken an Instagram shot of their food before it got cold.