Report: tech CEOs and GOP leaders meet to end Trump's bid for the White House
46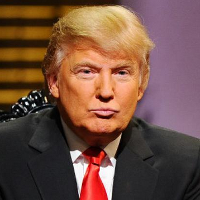 According to a fresh report from the Huffington Post, Silicon Valley technology leaders, an array of Republican party leaders, and various other billionaires and high-ranking government officials recently attended a secret meeting where the primary topic of discussion was how to stop Donald Trump from reaching the White House. If need be mentioned, Trump is currently leading the polls in the race to become the Republican Presidential candidate.
The meeting allegedly took place this weekend at a private island resort off the coast of Georgia, at the American Enterprise Institute's highly secretive annual World Forum. Among the technology leaders, Apple's Tim Cook, Google's Larry Page, Facebook's Sean Parker, and Tesla's Elon Musk all attended the meeting.
Allegedly, the participants spend equal amounts of time in understanding how Trump managed to become so popular as they spent figuring out ways to stop him in his path to the White House.
Political guru Karl Rove is said to have presented focus group findings revealing that American voters do not see Donald Trump as a presidential figure that could serve as a role model for the young generation. Furthermore, Rove's findings allegedly say that voters are also having trouble with handing Donald Trump access to nuclear codes.
Although understanding Trump's ascension to popularity and finding ways of stopping him are said to have been the primary topics of the discussion, the report also mentions that the topic of encryption was also touched at the meeting. According to a source quoted by the Huffington Post, GOP Senator Tom Cotton adopted a hostile attitude toward's Apple CEO Tim Cook in the context of the recent clash between the FBI and Apple over cellphone encryption:
"Cotton was pretty harsh on Cook," the source said, and "everyone was a little uncomfortable about how hostile Cotton was."