Report: a 12.9-inch iPad may arrive in early 2015, iPhone 6 should be announced on September 9
36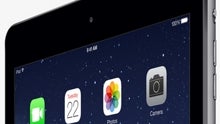 After years in which it released only tablets with screens smaller than 10 inches, Apple may finally introduce an extra-large iPad next year. According to Bloomberg, Apple's partners are working on a 12.9-inch iPad that should enter production in the first quarter of 2015.
Previous reports
had it that the 12.9-inch iPad would arrive before the end of 2014, but it looks like this isn't going to happen. While there aren't any details on the features of the 12.9-inch iPad, it's said that "potential customers" for it are businesses, rather than regular users.
Of course, before launching the 12.9-inch iPad, Apple will unveil a new 9.7-inch iPad, as well as an updated 7.9-inch iPad mini. Bloomberg has it that both these new iPads should be available in time for the holiday season this year.
Bloomberg also provides details on the
iPhone 6
. According to its sources, Apple will announce the next-generation iPhone on September 9 - just as
previously rumored
. Naturally, said sources reconfirmed what's been known for months: there will be two iPhone 6 models, one sporting a 4.7-inch display, and a larger one with a 5.5-inch screen.
Are you looking forward to seeing what Apple's upcoming smartphones and tablets will offer?