Report: The next Apple iPad mini will offer improved resolution
28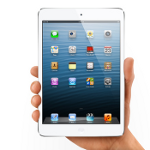 Apple iPad mini
is going to offer enhanced resolution. It is unknown whether or not the next variant of the 7.9 inch device will feature a Retina display, but based on the display featured on the
Apple iPhone 5
and the
current iteration of the Apple iPad
, it would seem a pretty good bet that Apple will go ahead and sharply improve the resolution on the Apple iPad mini to meet the Retina display threshold.
According to the industry source, if the next iPad mini uses Apple's current Retina display technology, it will have to have resolution of 2058 x 1536.That would work out to a pixel density of 326 ppi. The current version of the "byte-sized" tablet has resolution of 1024 x 768 for a pixel density of 162ppi. The Apple iPad mini is competing with the 7 inch
Amazon Kindle Fire HD
. That tablet features resolution of 1280 x 800 for a pixel density of 216ppi. Those are the same exact specs seen on another 7 inch Android challeger to the Apple iPad mini, the
Google Nexus 7
.
The same source had some news about the next version of the full sized Apple iPad. According to these insiders, Apple will decrease the number of
LED light bars
to one from two in order to decrease the weight of the tablet.
source:
Digitimes