Report: Japanese sales of the Apple iPhone 5s dropped 85% in April
49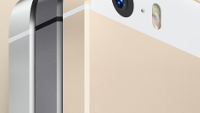 A firm that tracks smartphone sales in Japan, BCN, says that the number of
Apple iPhone 5s
units sold in the country, dropped by a startling 85% in April. In March, Apple sold 3.9 million units of its flagship model in Japan. That figure declined sharply to 570,000 units sold last month. And the
Apple iPhone 5c
has suffered through a similar slump, with Japanese sales of that model declining from 430,000 in March, to 150,000 in April for a 65% drop.
One reason for the decline in Japanese iPhone sales is the 5% to 8% hike in sales tax that took effect on April 1st. Combined, total iPhone sales added up to 1.8 million units in January and February, with a decline to 700,000 units in April following the sales tax increase. During the first quarter, 8 million Apple iPhones were sold in Japan, 18% of the global sales total of 43.7 million units that were rung up in the three month period.
In the Japanese sales standings for the week ended May 25th, KDDI's 16GB Apple iPhone 5s was the highest ranking version of Apple's smartphone, although it dropped from fourth place to eighth place from the previous week. The same exact model sold at SoftBank, dropped from third to ninth position. The top two selling smartphones in Japan for the week, were Sony Xperia models.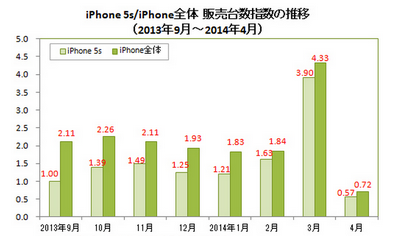 Last month, the Apple iPhone 5s sold 570,000 units, a decline of 85% from the prior month
source:
Forbes