Report: Apple's iPhone 6s is four times more popular than the iPhone 6s Plus
37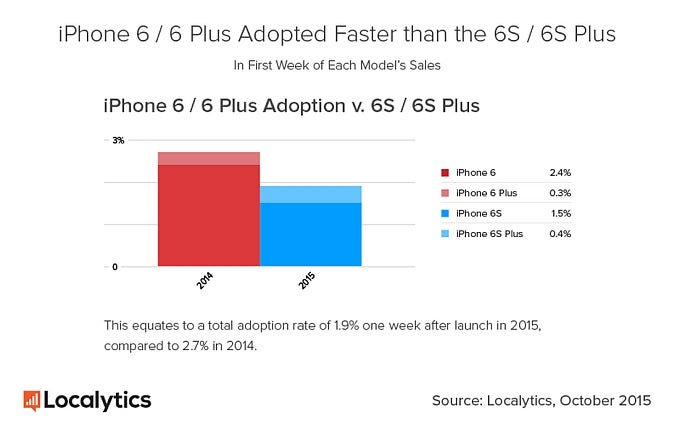 According to a new report from Localystics, the
iPhone 6s
was four times more popular than the
iPhone 6s Plus
in the first week of commercial availability. The report claims that the iPhone 6s now accounts for about 1.5% of all active iPhones, while the iPhone 6s Plus is listed with a share of 0.4% of the iPhone pie.
Although it's definitely not surprising to see that the iPhone 6s is selling much better compared to its larger and pricier sibling, it's worth noting that the second-coming of the Apple phablet appears to be doing much better compared to the original version in terms of first-week sales. Last year, after one week of availability, the
iPhone 6 Plus
accounted for about 0.3% of all active iPhones, down significantly compared to the 2.4% share of the
iPhone 6
.
At this point, it should be noted that while the iPhone 6s and 6s Plus adoption rates have dropped compared to those of the iPhone 6 and iPhone 6 Plus, this doesn't mean that fewer units have been shipped. The reason for the discrepancy in numbers between the two iPhone generations comes from the fact that there are simply much more iPhones currently out there compared to a year ago, following the phenomenal sales success of the iPhone 6 series throughout the last four quarters.
Apple recently announced that it sold
13 million iPhone 6s and iPhone 6s Plus units
combined during the initial weekend of availability. This tops the record (10 million units) that Apple established last year with the iPhone 6 generation.
If you're wondering which is the most popular iPhone model at the moment, then the answer shouldn't surprise you. According to data from Localystics, the iPhone 6 accounts for a third of all active iPhones, followed by the
iPhone 5s
with a share of 23.2% and the
iPhone 5
with a share of 11.2%. Again, note that these shares do not come from brute sales numbers. Instead, these percentages represent the ratio of a certain iPhone model in the total pool of active iPhones.