Report: Apple has its RF suppliers in place for next Apple iPhone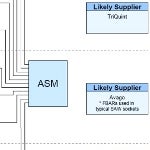 already decided which firms will supply it with the radio chips
for the next iteration of the Apple iPhone. Analysts at Barclay's say that Skyworks will supply Apple with the LTE power amplifiers for bands 13 and 17 at 75 cents a pop, the 2G/
EDGE
power amplifier module at a buck for each unit, and for 50 cents, the WLAN PA/low noise amplifier. That works out to $3 in parts in each Apple iPhone for the Massachusetts based analog semiconductor manufacturer. The company currently accounts for $1.20 in parts for the Apple iPhone 4S.
Apple apparently will replace current surface acoustic wave (SAW) RF filters with
film bulk acoustic resonators
(FBARs). Past iPhone models, including the Apple iPhone 4S, use the SAW filter and no change was expected in the next version of the phone. Instead, Apple is looking to use the advanced FBARs thanks to improvements in its manufacturing techniques that has cut the size and increased the efficiency of the product enough that it can be used inside a smartphone.
A strong sign that Apple is going with FBARs over SAW is the selection of Avago Technologies as a RF filter supplier. The company has recently spent tens of millions of dollars into
adding capacity to its FBAR production
, possibly in advance of receiving huge orders from Apple. Most importantly, Avago believes that it can shrink the size of the filter without putting a dent in performance which could expand its usage to more bands than it previously could be used for. If it does supply the FBARs to filter two 3G bands, Avago would have $3 of parts in the new Apple iPhone, up from $2.25 in the current model.
source:
AppleInsider