Report: 4.7 inches is the most popular phone screen size, and you can guess why
73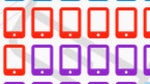 If you still doubt Apple's dominance, then a new report by device intelligence provider
DeviceAtlas
ought to change your mind. While the scope of the write-up spans a number of categories, one in particular caught our eyes: screen sizes (and resolutions) and their respective popularity across the globe.
According to
DeviceAtlas
, the data comes from web traffic reports that also usually capture information such as operating system, browser, and the aforementioned screen size and screen resolution. The breakdown indicates that while screens larger than 5 inches are gaining traction, 4.7-inchers are still the most popular diagonal. And there's really just one explanation here: the iPhone 6 and iPhone 6s. Further corroborating this is the fact that 750 x 1334 resolutions are almost universally the most common — a resolution that only the iPhone 6 and 6s offer. The second most popular screen size is 5 inches, while 1080 x 1920 pixels is the most commonly reported resolution.
Speaking of pixels, it was interesting to see just how much Quad HD (1440 x 2560) smartphones have grown in popularity. In countries like the United States, Quad HD accounts for just under 10% of the total user base, whilst India leads with adoption rates of about 12% from what our eyes tell us. Surprisingly given the previous, the US, not India, is actually leading in terms of phablet penetration (5.5 inches and above).
Here's a more detailed breakdown: