Replicant Assault – 11 Chinese smartphone clones that blew our minds!
22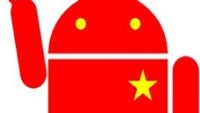 Among the countless curiosities of China and its vast technological market is the ability to start your own smartphone-making company from scratch, without the hassle of having to figure out a complex business strategy first. If you could care less about seeing your brand name in the Top 10 manufacturers, and your business's goal boils down to "sell boatloads of smartphones in a market that is set to ship $120 billion worth of them by 2017", your plan is practically a no-brainer. Step one, you stock up on those cheap and trusty MediaTek processors like there's no tomorrow. Step two, you painstakingly replicate other people's hard work and give millions of customers "the latest flagship models" at one-third of their prices. Step three, you laugh all the way to the bank!
Тhe shameless practice of selling affordable replicas of red-hot foreign smartphones has become an awe-inspiring industry of its own. What used to be a gathering of poorly-manufactured, borderline
grotesque
imitations of sleek, expensive flagships, has evolved into a
clone army
that eats into the Chinese market share of big-game, premium devices. The latest MediaTek-powered replicas of Samsung's, Apple's, and HTC's heavyweights, for example, are virtually indistinguishable from their originals. Each detail of not only their construction, but their factory interfaces as well, is faithfully reproduced. Meanwhile, these knock-offs sport capable quad-core and even eight-core chipsets, and don't joke around in hardware terms. Although the experience of creaking plastic and paint-chipping will likely accompany your purchase.
Not only that, but it's not unusual to see some Chinese maker you've never heard of release a replica of an upcoming flagship smartphone
before the original has been formally announced
. Some brands, such as GooPhone, have even went as far as to patent the stolen design in their homeland, quicker than its rightful owners could utter "Lawsuit!". That's completely outrageous, but also an impressive demonstration of the world's most potent manufacturing force. We could say the same words –
outrageous
and
impressive
, for almost each of the 11 Chinese replicas we've rounded up here. Alas, the fake Galaxy Note 4 or Nexus 6 are yet to be produced, but we assume it's only a matter of time plus a few leaked sketches and photos.
Now, let us show you what a saunter through the depths of China's wholesale shopping websites uncovered...