Reddit comes to Google Glass; all early adopters accidentally walk into traffic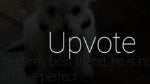 Google has been pretty clear about how it thinks Glass is best used: minimal distraction, and only the most important notifications and information. Google
isn't even allowing ads
on Glass right now, because it wants to keep the experience clean for users. And, in one app release, developer Malcolm Nguyen has destroyed all of that work. That's right, Nguyen made a Reddit app for Google Glass.
Nguyen's app is designed to deliver the top 25 stories from your Reddit front page directly to your Google Glass. The list of stories will refresh every hour, and of course you'll get options to up-or-down vote posts and comments up, leave your own comments, and share links. According to Nguyen, his app is made for those Redditors our there who want to "get pictures of cats and memes and gonewild beamed directly to your face without anyone suspecting a thing."
A noble effort to be sure, although we're not quite sure that nobody would "suspect a thing." First off, Tim O'Reilly has said that people can see a bit of what is on your Glass screen from the outside (it is a transparent prism after all). And, if you're wandering around the streets with gonewild photos being beamed to your face, that kind of distraction could cause some serious troubles.