Red Bull Photography shows us the Lumia 1020 and its super-camera still has a few tricks up its sleeve
23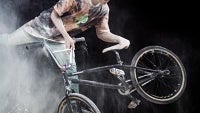 Extreme sports photographer Predrag Vučković had everything set up to capture some sweet BMX trick action on his BMX W2D (Water to Dust) project, featuring BMX rider Varo Hernandez.
Microsoft Mobile has been carrying on former Nokia's
camera projects
with a variety of
world-class photographers
, showing us some amazing perspectives on the
world around us
.
Vučković has his whole kit for capturing images of his world, including an impressive array of Profoto lights. For this photo-shoot however, Microsoft swapped out whatever space-shuttle for a camera he normally uses, and handed him the iconic
Lumia 1020
, equipped with its mind-bending 41-megapixel camera.
The Lumia 1020 is over a year old, and while that may equate to roughly 7 in dog years, it is arguably two or three lifetimes in the technology space, particularly mobile. However, when you see the still images in the slideshow and video below, there is little argument about what this device with Nokia's PureView technology can do, further showing it is a class leading camera by many standards.
Of course, the Lumia 1020 benefitted from being in the hands of a guy that knows his photography, and how to use light effects. That still does not demean the results though, as the pictures are fantastic. With regular household flour, some lights, and the evening backdrop, Vučković took some really nice pictures of Hernandez, "Our location was specially built for this purpose. For me as a professional photographer, [it] was surprising how Nokia managed [the] quality of the captured DNG files. The result was amazing, as you can see."
source:
Conversations with Nokia