Reader gets Pre activated on $59.99 plan and possibly a one year contract
11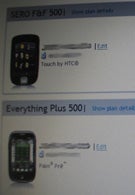 We received some interesting stories over the weekend about the experience of the Palm Pre frenzy. One story really stood out among the rest because of the special "deals" this reader managed to get. Not only did he buy a new Pre, he's now tethered to only a one year agreement on the Simply Everything Plus plan; based on what his contract shows. Finally, he "referred" himself so he'll be getting two $25 Visa debit cards from Sprint. We'd say that this reader really did get a spectacular deal on day one of the Pre. So here is the story about it and a nice shot of the manual contract to prove his story...
"I've been excited for a long time about the Pre and finally got the chance to get one on Saturday. I went to bed the night before a little bit later than I wanted, but the excitement of the release made me wake up at 6 AM. My plan was to check out the local Best Buy first to see if I could get it there for the instant price of $199.99 rather than the Sprint stores. Arriving a little bit after 6:30AM, I was shocked to see that no one was at the store waiting outside except for a couple of cars in the parking lot. At this point I was already excited because I wouldn't have to dish out $299.99 for this phone up front. I was the first person in line for the Pre! I guess one other guy that was waiting in his car saw I started the line and decided to come out and wait. We both knew that the store was only getting two phones based on the leaked documents showing Best Buy's inventory stock. Strangely enough, no one arrived at the location except for the the employees that were working in the morning. Around 9AM, more people were stopping by and started to form a line. We had the unfortunate task of letting them know that there were only two phones available and the best thing to do was go to a Sprint store. Finally the store opened at 10 and we were about to get the Pre! I had an existing Sprint SERO plan but knew that it couldn't be used on the Pre, so i just told the rep to sign me up for a new individual account. They tried accessing my account on their system, but was unable due to the system being "overwhelmed" at that time. I asked them to see if they can sign me up on the Simply Everything Plus 500 minute plan for $59.99. Finally they called up their Sprint customer care line to see if they could get everything completed. To my joy, they said that they could do it and the rep started writing up the manual contract. I noticed many mistakes when they wrote up the contract, but I kept my mouth shut because of how lucky I was to get the Pre activated in the store on the Everything Plus Plan. For starters, they only put my name down without any other information like my address. Second, the activation fee was only $24 versus $36 which the other guy buying the phone was getting. Finally, the rep checked off the 1 year agreement box probably because he was rushing through things. At this point I was one happy customer for the fact I got the Pre for the instant price of $199.99, activated on the $59.99 per month Simply Everything Plus 500 minutes plan, and that it was only good for 1 year. To top it off, I'm getting $50 in Visa debit cards for the "referral" that I did; $25 for my old line and $25 for my new line that I just got. The next day, I went online to check out my account to make sure everything was correct. I did see that it was on the correct plan, but that it showed my contract expiring in 2011. So now I have to call them up to complain about it, we'll see what happens..."
We don't know if this was something that Sprint really anticipated on happening. Has anyone else managed to get their Pre activated on this plan? If so, leave a comment and let us know about your experience.