Razer Edge Windows 8 tablet runs Crysis 3 (video)
35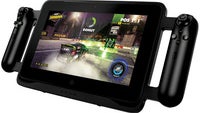 The majority of tablets on the market today, be they of the Android, iOS, or Windows breed, aren't meant to be used for hardcore gaming. This quite unusual specimen, however, is an exception. That's the Razer Edge you see in the video below, running a game that some won't even dare installing on most other Windows 8 tablets – Crysis 3.
One who is familiar with the title would instantly assume that the tablet used in the demonstration packs some serious punch, and they'd be right. The Razer Edge comes with a Core i5 processor, 4GB of RAM and NVIDIA GT640M LE graphics, while its "Pro" variant is equipped with a Core i7 processor and 8GB of RAM. A neat feature you won't see on other Windows 8 tablets are the physical controls, which are an essential component of the gaming experience.
How do you get one of these? Well, just visit the Razer web page and pre-order the model that suits your needs. Just make sure your bank account can handle its $1000+ price tag.