Radio Shack leak reveals launch dates for HTC Vigor and Samsung Stratosphere
9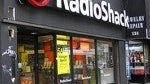 A leaked document from Radio Shack reveals the launch date of a couple of handsets that Verizon customers have been waiting for, and two others. The HTC Vigor, which we
reported
could have a name change to the DROID Incredible HD by HTC, is
listed with a date of October 20th
, a week later than the launch date we told you about in that story. That either means that Verizon will be getting the phone a week earlier than Radio Shack, or the latter has new, more up-to-date launch information. The Samsung Stratosphere, a version of the Epic 4G for Big Red, shows a launch date of October 6th. Two other phones were on the leaked document, the BlackBerry Curve 9370 with an October launch (specific date not specified), and the Samsung Illusion which also shows a launch scheduled for October 20th.
The HTC Vigor is the most anticipated of the four, said to be the "
World's First HD Smartphone
" by virtue of the 720p resolution on the 4.3 inch display. Additionally, it will benefit from the partnership between HTC and Beats by Dre as
a special set of earphones
made by the latter, is expected to come with the device. Besides shipping with Android 2.3.4, the phone is expected to offer the latest version of HTC's UI, Sense 3.5. The Samsung Stratosphere is set to replace the Samsung Fascinate on Verizon's line up and will support Verizon's LTE network. Like the Samsung Epic 4G on Sprint's roster, which it is being compared to, the Stratosphere offers a side-sliding QWERTY keyboard .
Just yesterday, we
told you
how Samsung accidentally leaked information about the Samsung Illusion through Flickr, confirming its SCH-I110 model number and the fact that it
will be a "green" smartphone with eco-centric features
. The last of the four, the BlackBerry Curve 9370, is a 'World Phone" version of Sprint's BlackBerry Curve 9350. As a result, it will have both a CDMA and GSM radio on board and will run the new BlackBerry 7 OS.
While all four smartphones are expected to launch next month, no pricing information has been leaked for any of them. As we get closer to October, we should not only be able to get some word on price.
source:
DroidLife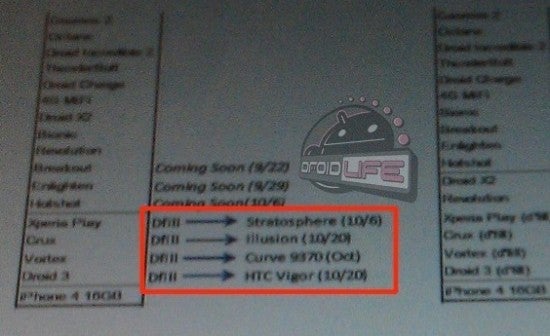 The leaked Radio Shack document reveals the launch date for the HTC Vigor and 3 other phones