RIP, iPhone 3GS, you redefined the meaning of superb software support
57
This article may contain personal views and opinion from the author.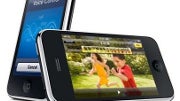 With yesterday's announcement of the iPhone 5, it became known that the
iPhone 3GS
will no longer be sold. During the past year, it was offered at the lovely price of free on contract, which made it arguably the best smartphone at that price-point. However, as it will no longer be found on store shelves, we wanted to take a few minutes to express our fascination with the superb support that this handset got (and continues to get) from Apple.
It wouldn't be an overstatement if we say that the iPhone 3GS was the best-supported smartphone in recent memory. It was launched in 2009, but is currently rocking the latest version of Apple's mobile OS - iOS 5. And guess what, it's going to receive an update to iOS 6 on September 19. That means that Apple is still supporting a 3-year old handset. In comparison, the
Motorola DROID
, which was released later in 2009, and was the signature Android smartphone for quite some time, never god updated past Android 2.2 Froyo - a platform released in 2010.
Of course, when Apple updates its older devices, it often leaves some of the main new features out, due to hardware (and other) reasons. But even then, it's way better to receive a watered-down update, rather than no update at all. That's because major updates carry so many subtle improvements and optimizations, that they can visibly improve the performance of important apps like the browser or e-mail. But perhaps even more importantly, software updates bring support for the latest applications. That's why the iPhone 3GS, a device from 2009, can flawlessly run the latest titles like ShadowGun, Dead Trigger, Infinity Blade II, EPOCH, N.O.V.A. 3 and so on. But it's not all about games. Many productivity and lifestyle apps also require the latest version of iOS in order to run. This is where the value of these software updates is. Sure, you don't get stuff like Siri or turn-by-turn navigation, but you get numerous system improvements and seamless support for all these lovely new applications that are constantly redefining what's possible on a cell phone. You simply do not get the feeling that you're left behind, and you really aren't.
It's just something we wanted to acknowledge, because we haven't seen anything like that with Android or Windows Phone. Support for devices running on these OS's often continues for up to a year, and is surrounded by delays, lack of information and silence on the manufacturer's part. Once again, it's a matter of doing it great, or doing it so-so. At the end of the day, why do you need the best hardware, if you can't have the latest software?