RIM's leaked 2012 roadmap shows two new Curve handsets, 3G PlayBook, and the BlackBerry 10 powered London
5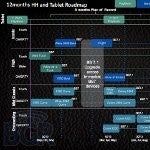 Are you tired of all the
shake-ups surrounding RIM of late
? Certainly, it has to be tough for a company that was in a healthy position looking back a few years ago, but since then, they've been unable to contend in the competitive smartphone market. Heck, they even made a stab to enter the lucrative tablet market, but as we've seen with the
PlayBook
, it hasn't quite taken off all that well – and it doesn't help when reports hint to lackluster sales. Well, with 2011 behind us and 2012 bringing some much-needed change for the company, it'll be intriguing to see where the company goes with its portfolio.
Interestingly enough, we're getting a good look into what RIM intends to bring to the tablet this year – well, that's because RIM's entire
2012 roadmap has been leaked
. First up on the table is what appears to be a 3G enabled version of the QNX based tablet, simply dubbed as the
3G+ BlackBerry PlayBook
. Rather than calling it a 4G tablet outright, the attached "
3G+
" name is on there because the leaked slides mentions
HSPA+ connectivity
as its biggest differentiator with the previous model, as opposed to being a 4G LTE equipped model. Unfortunately, it doesn't look like we'll be seeing a 10-inch PlayBook of some sort, as some of the previous rumors have indicated.
Secondly, RIM appears to be positioning two new
Curve
models as being a part of its "
onboarding
" category, which is nothing more than internal speak for a device that's intended to bring feature phone users to smartphones. Looking at the leaked slides, these expected first time smartphone users will probably find the
BlackBerry Curve 9220 and 9320
as the perfect models.
Specs-wise, they're nothing worth bragging about seeing that they're very entry-level like. In fact, the two smartphones feature a 2.44 QVGA display (not a touchscreen), GPS, Bluetooth, Wi-Fi, microSD card slot, 512MB RAM, and that typical Curve keyboard. Well, what's different between the two is that the 9220 packs a
2-megapixel fixed focus camera
, while the 9320 packs on a
3.2-megapixel extended depth of field camera
. So yeah, they're hardly devices deemed as next-generation, but then again, the Curve series has also been associated with low-end specs.
Last on the list and on tap for a later release in the year, is none other than
RIM's first BlackBerry 10 powered smartphone
– codenamed
London
. Initially, it's expected to land sometime in late
September
, but the leaked roadmap alludes to a later
October
release. Needless to say, that can be a damper for those itching to see RIM's first BlackBerry 10 smartphone, but when you take into account what's at stake, the later release might be beneficial – especially when expectations are going to be riding high for it.
So there you have it folks! We're given an idea as to what RIM intends to accomplish this year, but if course, release dates and devices can change at any time. Frankly, it might not seem like much compared to previous years, but we're confident that RIM is taking its portfolio very seriously if they want to succeed – as opposed to dying slow painful deaths. So what do you think about all of it?
source:
BGR