RIM to continue developing the Flash player for its BlackBerry PlayBook on its own
4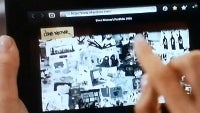 RIM will keep improving the Flash player on its BlackBerry PlayBook with its own resources, after
Adobe pulled its troops out of the mobile Flash battle
yesterday.
The company said in a statement that it is one of those Flash source code licensees that Adobe mentioned it will back up if they want to tweak the code and support their own iterations of the Flash Player.
Given that the ability to view Flash components in websites, which the omnipresent Apple iPad is unable to do, is a major selling point for RIM's slate, and the PlayBook runs
QNX, which is heavily invested in Flash
, so RIM's decision only makes sense:
As an Adobe source code licensee, we will continue to work on and release our own implementations. RIM remains committed to delivering an uncompromised Web browsing experience to our customers, including native support for Adobe Flash Player on our BlackBerry PlayBook tablet (similar to a desktop PC browser), as well as HTML5 support on both our BlackBerry smartphone and PlayBook browsers. In fact, we are pleased that Adobe will focus more efforts on the opportunities that HTML5 presents for our developers, and shares our commitment to HTML5 as we discussed together at DevCon Americas.
It remains to be seen how successful will RIM's software engineers be in bringing new features to Flash on the PlayBook, and possibly its
upcoming QNX phones
. Sounds like too much work, as the current version of the Flash Player is already good enough to suffice while the Internets move entirely towards HTML5.
source:
AllThingsD