BlackBerry PlayBook QNX Platform Walkthrough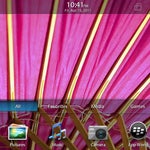 Introduction:
Now that consumers are able to snatch up the
BlackBerry PlayBook
, it'll be interesting to see the kind of reception it'll get with the general public. Mounting an offensive push in a new product market is undoubtedly one way that RIM can differentiate its past with its future, but with most new ventures, their visibility and longevity will be based on how well they're able to capitalize on attracting people to their tablet from the onset. Shedding most of their roots in the process, they've seemingly taken a new approach with their
QNX based platform
, and interestingly enough, they've managed to develop and branch out their new platform in a timely manner – and good for us, the wait wasn't extraordinarily long.
Knowing that RIM is indeed intent on maturing their shiny new platform, we'll have to delve into every nook and cranny of its bounty in order to better gauge how well it stacks against the existing crop of tablet platforms out there. Visually, there's no denying that it takes advantage of the PlayBook's mighty processing power, but as we all know, it's going to take more than beautiful looks to concretely solidify its position as a top tiered tablet platform. With that, let's dive in and take a close look, shall we?
The QNX based platform looks eerily familiar, but is it a standout on its own?
Having been impressed with HP's webOS mobile platform when it first showed itself three CES events ago, the first thing to pop into mind after checking out the PlayBook's QNX based platform is that it's very similar to webOS. It employs some of the same exact gestures in use with HP's platform, and also shares some elements of the UI design, like the dock of icons at the bottom and the card-based multitasking on the homescreen.
Overlooking the similarities, the one instantly distinguishable difference that we adore about the platform is that RIM happily decided to start off with a clean slate for it. We're not saying that BlackBerry OS is a bad mobile platform, but rather, we haven't seen much of a drastic departure to warrant a worthy commendation. For better or worse, their decision to drop their mobile platform and instead rely on a totally new one is a fact now, and it's definitely good to see the refreshing change of pace for them.
We're glad to see that they totally stray far away from the heavy menu based interface of BlackBerry OS, and instead, we find a cleaner and more straightforward approach that reduces the learning curve from the start. In essence, it has some close ties with Apple's iOS since the platform isn't structured around menus – however, it's apparent that the OS has to compromise with certain aspects like personalization. Undeniably, there's still plenty of eye candy seen throughout it, like its nifty looking transition effects, but it's a shame to find that you're only limited to changing the background wallpaper of the homescreen.
Finally, there's just this high level of responsiveness evident throughout the entire platform that makes just about everything you do so satisfying. Of course, it's not saturated with a ton of snazzy looking 3D effects, but then again, the compromise is made there to offer a tight and intuitive experience. Even more, we rarely find the platform struggling to execute certain tasks, whether they're simple or complex ones – which can be contributed to the latest build of the platform that was pushed out on launch day. Knowing that we're still literally on version 1.0 of the platform, it'll be intriguing to see how RIM will approach its new OS in the coming months. Although they've nailed down some of the basics, it already needs to do a lot of catching up in order to expand its reach amongst consumers.
Home screen, main menu and visuals
Minutely, you can still find some evidence of RIM's mobile platform on the PlayBook's homescreen, but thankfully enough, it's not something that particularly glances out in front of you. When no apps are running, the
homescreen
consists of a top bar that displays the clock, date, connectivity status, battery indicator, and a tiny button that pops up the settings menu. However, this bar disappears the moment that an app goes into full screen – but you can always bring it back at any time by simply executing a diagonal gesture from the top left or right corners of the display. Regretfully though, personalization is nearly non-existent since you're only left with the ability to change its wallpaper – and that's all!
The only underlying element that RIM carries along from BlackBerry OS is the
apps panel
that basically displays the first row, but when you either click the up arrow or execute a swipe up gesture from the bottom bezel, it'll bring the full panel into view. From here, it's broken down to 4 distinct categories from the onset – these include All, Favorites, Media, and Games. Based on what the App World categorizes each app, they'll automatically place themselves in the appropriate category. In addition, you can always rearrange the finger friendly sized icons to your liking by performing a long press on any single icon. However, it's worth noting that a 5th category (
BlackBerry Bridge
) will appear if you happen to pair the PlayBook with a RIM-made smartphones using the BlackBerry Bridge app.
Needless to say that we have to applaud RIM for providing a simple, yet intuitive, process when it comes to
juggling around through multiple opened applications
. Granted that it might have some similarities with HP's webOS, the consistently fluid speed of the platform allows us to effortlessly move between each app without losing place in any of them. When launching an app, it's accompanied with a subtle transition effect that places it into its maximized view – which then encompasses the entire size of the display. Of course, a quick swipe up gesture from the bottom bezel minimizes it, then allowing you to navigate between any of the other opened panels, but you can also perform a quick swipe gesture from either left or right bezels as an alternative to jump from one app to another. Depending on the app, swiping down from the top bezel will uncover some additional functionality that's related specifically to that specific app. Lastly, closing an app is obviously completed by minimizing it, then swiping the panel towards the top bezel – and surely enough, there's an animation to go along with it.
Although the QNX based platform is light in terms of 3D heavy visuals or personalization, it makes it up with its super responsive performance. In any event, we find a certain balance with it seeing that the fluid nature of the platform is commendable in providing an intuitive and quick experience in almost every aspect – though, its memory capacity isn't limitless. In fact, we managed to load up to 10 different apps simultaneously with barely a hit being found whatsoever, but after attempting to load another app, it basically closes out one of the others automatically, which actually isn't the bestest of solutions. Regardless, it's agreeable to say that RIM has done a decent job in keeping things very stable with their new platform.
Finally, we want to graze slightly on the PlayBook's
notifications system
– which is nothing if you don't use the BlackBerry Bridge feature. If you happen to be lucky enough to own a BlackBerry smartphone that's compatible with this feature, you'll get a taste of notifications with it. In the top bar of the homescreen, there's generally a tiny mail/message icon with a number next to it that appears when the PlayBook is connected with your smartphone via BlackBerry Bridge. Clicking on it will display the notification, but whether they're unread emails or message, we like that it isn't obtrusive in any way. Still, it would've been nice to see a small preview of it, but rather, it informs you to tap the icon to launch the Messages app. Nonetheless, it's decent for a version 1.0 platform, if we don't count the fact that you need to have a BlackBerry smartphone.