RIM stock price falls after BlackBerry 10 announcement
23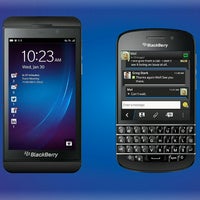 You know how the old stock trader's saying goes: "Buy the rumor, sell the news." That appears to be happening with RIM's value right now as BlackBerry's price dropped rather sharply during the official BlackBerry 10 announcement. As of this writing, the company's price per share is hovering around the $14.80 mark while it stood at about $16.50 only hours ago.
Still, the company is doing way better than it did last September when its share price hit a bottom of $6.31. But since then, optimism and hype around the new BlackBerry 10 platform and smartphones managed to lift it up considerably – near an $18 peak, which it hit a week ago.
How will BlackBerry stock move over the coming days and months? Well, that depends on how well those BlackBerry 10 smartphones – the
BlackBerry Z10
and
BlackBerry Q10
will sell once they hit the market. Both of them sure seem promising, but ultimately, sales figures and investor optimism is what will shape the direction of the company's market value.