RIM patents a dual capacitive/resistive touchscreen
8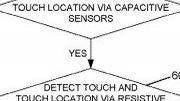 We don't often encounter resistive touchscreens any more. Many of us look back on the Palm stylus like we would look back on pre-cable television. But it still has its uses. For one thing, resistive touchscreens can function with
gloved
hands, so we don't have to choose between writing a text and keeping our hands safe from frostbite.
And
RIM
seems to get the idea. They've refiled a patent for a combined capacitive-resistive touchscreen. We say "refiled" because the patent seems identical to one filed in
2009
. Further confusing us is the fact that
Hitachi
already showcased this combination screen technology in November of 2010. Lawsuit, anyone?
But there are more practical issues at play. For one thing, how much more expense would a hybrid touchscreen be? Would the extra expense really be worthwhile, considering how few customers would even notice? Perhaps if RIM marketed this combination touchscreen as a rugged corporate device, they might find a niche. But we suspect people are pretty satisfied with their capacitive screens.
source:
USPTO
via
BerryReview