RIM Blackberry 7100t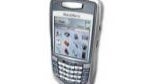 The traditional silhouette for RIM BlackBerry series is Pocket Pc looking device, kind of wide and not quite comfortable to use as a cell phone. This was limiting the customer range for RIM to people who needed to use its applications more then the phone features. Aiming for bigger markets, RIM came together with T-Mobile developing a new look for their BlackBerry. It measures 4.7 x 2.3 x 0.75 inches – about an inch narrower then BlackBerry 7730 making it look more as traditional cell phone. The handset has all the traditional BlackBerry applications including two new ones: a cross-platform IM application for AIM, Yahoo, and ICQ, plus a full HTML Web browser.


Some of the important features are:
quad-band GSM (850/900/1800/1900) phone
240-by-260 65K LCD color display
Speaker phone
Bluetooth
4MB SRAM,
32 MB user-accessible flash memory
The new and unique about this phone is the odd looking, QWERTY based keypad called by RIM SureType. This keyboard was developed in order to make the phone smaller and has 20 keys located close to each other. Most keys have two letters and a number or a symbol on them. The typical cell phone keys are outlined with white for easier dialing. They do look strange but rumor is that they are easy to use with the predictive text input application and its ability to learn your most used words. Like the other predictive text input solutions (T9, iTap), you do not have to press a key numerous times to select the second letter assigned to a key, but rather the software guesses the word being types and displays it on the screen.
Some down falls listed in the
PC Magazine's review
are: not plaing MP3 files or video, also it can not be use as a modem for your laptop, and it has very few games or other downloadable applications available.
This phone will be available exclusively by T-Mobile. Release is set for early October and the price for new customers will be $199 after mail in rebates – quite affordable compared to the other color screen devices from the BlackBerry series.

Blackberry 7100t full specifications and features