RIM BlackBerry PlayBook hits shelves today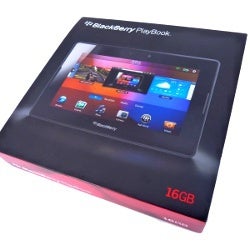 The BlackBerry PlayBook, RIM's long-awaited 7-inch tablet running the QNX-based BlackBerry TabletOS, hits shelves today in the U.S. and Canada, with prices startingfrom $499 for the most basic 16GB model and reaching $699 for a 64gig version. This will buy you a Wi-Fi version of the tablet, while WWAN models supporting different carriers' 4Gnetworks are expected to come out soon as well. We checked our local Best Buy stores –one of the locations where you can find the tablet – and it wasavailable everywhere, so you shouldn't have trouble finding it.

The device marks RIM's entry into the tabletspace, but with a 7-inch screen it's not a direct competitor to theiPad 2, but rather a differently positioned tablet. RIM aims to target it at the business user, butweirdly enough, the PlayBook comes with no built-in email app.Overall, the PlayBook leaves a raw aftertaste as the software doesn'tseem quite out of beta, but on the flipside RIM loyalists will behappy to see BlackBerry Bridge on board allowing them to connecttheir 'Berries to the PlayBook. Overall, it's a controversial device, but ifyou're still hesitating feel free to check out our in-depth review of the tablet, which should answer all your questions!
source: Reuters