Quartz news app for iOS is a brilliant new way to deliver news
8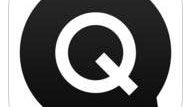 Quartz has released a native iOS app for its news service and it is unlike any news app you've seen before. The app is quite blatantly aiming to catch the attention of a younger audience, but the design and interaction method have turned it into something brilliant. If you've got an iPhone, we'd highly suggest giving it a try.
The conceit of the Quartz app is that it is set up as if it were a messaging app and you're in a conversation with the news service. You're served up a brief headline, then given the option to hear more or move on to the next story. If you choose to get more info, you'll be given a short description of the important info, a fun GIF or image to accompany it, and the option to bump in to the full article on Quartz. The app will also send you notifications of big news, and has a daily haiku to describe the stock market.
All of the content is written by humans and it shows. The style is amusing and approachable. There is liberal use of emoji. And, ultimately, it feels truly engaging because of how it is set up. It's not as quick a way to get the biggest headlines of the day because there are short pauses (as if someone on the other side is typing each response, but it is different and quite interesting.
Unfortunately for Android users, the app is iOS only right now, and from the announcement blog post, it sounds as though Quartz may not have even started work on the Android version of the app yet.