Qualcomm's Skifta comes up with 'Skifta Engine' to compete with AirPlay and simplify your home media streaming
1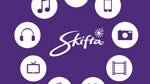 We've all been at a gathering where someone talks about their last vacation and pulls out a smartphone, tries to link it with the TV, and ends up spending an hour trying to get their media to display from the phone to the screen. To remedy such situations, Apple has AirPlay, a technology so simple that an average user can pick up an iPhone, iPad, or Mac laptop for the first time and figure out how to get the media to play from one device to another. But for Android users, there have been many technologies that have tried to do the same, and delivered mixed results.
Qualcomm's subsidiary Skifta has been offering the Skifta app for Android for some time now, allowing users to share their content across DLNA-enabled devices. However, now the company is trying to simplify this whole process by crafting the Skifta Engine. It's a new DLNA- and UPnP-based technology that can be included with new devices to enable an easy, pre-installed media-sharing feature. Still, it isn't certain yet if there will be interest among hardware manufacturers.
Apple has a well polished product in AirPlay, so it will be interesting to watch how Skifta catches on, and see if Qualcomm's claim for ease of use will ring true in real life.
source:
Gizmodo