Qualcomm's BatteryGuru app out of beta after update
16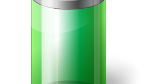 Ask any power using smartphone owner what he would like to see improved on his or her handset, and the first answer will usually be
battery life
. Now that city streets are filled with people moving forward with their head down, either entranced by a YouTube video, a game of Candy Crunch or looking at Instagram, longer battery life is vital to life as we now know it.
Motorola decided to go after these power users by shoehorning a 3300mAh battery into the
Motorola DROID RAZR MAXX
and
Motorola DROID RAZR MAXX HD
. And certainly the average battery inside your typical smartphone contains a larger capacity cell than what was in your phone just a year or two ago.
For those who still aren't happy with the battery life they are getting, last February silicon slinger Qualcomm released its
BatteryGuru
app in the Google Play Store. Now out of beta, the app adds to battery life by cutting off unnecessary connections, turning on Wi-Fi when possible. By learning how someone uses their smartphone, the app is designed to extend battery life while keeping the functions that are used daily. It takes 2 to 4 days for the app to learn how the phone is being used before the battery extending features kick in.
The Qualcomm Battery Guru is a free download from the Google Play Store, but there is one important caveat. Your phone must be powered by a Qualcomm Snapdragon processor, and even then, not every model is supported. A recent update exterminated some bugs and added support for a number of foreign languages.
source:
QualcommBatteryGuru
via
Pocketlint