Qualcomm holds the lead in smartphone CPU share
4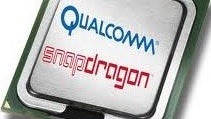 The smartphone market is booming, that's not really news any more. Smartphones are mobile computers, that's not too surprising either. Smartphone processors are packing some serious heat these days. It's close to the point where a mobile CPU will be more powerful than the CPU in a laptop from just a couple years ago (likely when the quad-core CPUs start to hit.) Texas Instruments had been the king of the smartphone CPU hill, but Qualcomm dethroned TI last year and is looking to hold that spot.
According to a report from Strategy Analytics, Qualcomm took first place in Q4 of 2010, and has retained its lead over Texas Instruments through Q1 of 2011. The growth of Qualcomm in this market has been mainly tied to the success of the Android OS. As of 2007, Qualcomm had only 3% of the smartphone CPU market; but, in Q1 of 2011, Qualcomm held 30% of the market. The Snapdragon CPU from Qualcomm is in many Android handsets, and is the required CPU for all Windows Phone 7 devices.
Also according to Strategy Analytics, global smartphone processor revenue was up 108% year-on-year in Q1 2011. It should be interesting going forward to see how/if the smartphone CPU marketshare shifts. Since the start of the dual-core age of mobile handsets, it seems like NVIDIA and Texas Instruments have been popping up in more and more devices.
source:
Strategy Analytics
via
Mobile Burn
Recommended Stories