Qualcomm hints at 20 upcoming tablets with its chipset this year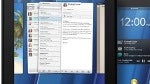 This year – it seems – is marked bythe invasion of tablets. Qualcomm, maker of the Snapdragon chipset,said that it knows of 20 tablets with its dual-core processor slatedfor release in the next year. You heard it right – that is twentydual-core tablets:
"We have over 20 designs inprocess," Qualcomm said at a pre-conference briefing. And tobe exact about timing we have to mention that the tablets are to comeout in the next 12 months, according to Qualcomm CEO PaulJacobs.
Currently, we can think of one recentdevice featuring Qualcomm's dual-core Snapdragon chip – the HP TouchPad. And while it certainly looks great with its 9.7-inchscreen and unique webOS, it seems like just one of manymore to come. The recently announced HTC Flyer also has a Snapdragon CPU and is expected to be released inthe second quarter of the year, but it doesn't fit the dual-corecriterion. It seems that this year is going to bring a lot moretablets than what we see at MWC, don't you think?
source: Pocket-lint