Quadruple amputee, Travis Mills, shares how Apple Watch has changed his life
40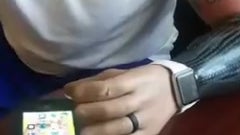 Just over four years ago, while on a foot patrol in Afghanistan, Staff Sergeant Travis Mills stepped on a pressure plate connected to an improvised explosive device. The blast was devastating, resulting in injuries that most people do not survive.
SSG Mills was an exception. The explosion caused him to lose portions of both legs and both arms, making Mills one of only five quadruple amputee casualties from the wars in Afghanistan and Iraq.
Amputee injuries in general from these conflicts are fairly infrequent, though they are the most visible. The technology for prosthetics continues to advance rapidly, resulting in
microprocessor assisted knees
, and myoelectric hands which respond to sensor assisted input from the wearer.
These solutions are all fine and dandy for those missing a limb or two, but missing all four? When your injury puts you in the fraction of a hundredth-of-a-percentile, creativity counts, and technology is essential.
Since his injuries, SSG Mills has started a number of ventures to assist himself, and other wounded veterans, as well as a consultancy to work with companies and organizations that look for new ways to address challenges and adversities.
Travis Mills read the other day that sales of the Apple Watch were perhaps not growing to the expectations of Apple and Wall Street institutions. However, for him, the Apple Watch has changed his life, thanks to some friends of his that bought him the wearable some time ago. The voice commands, along with dial and home button on the Apple Watch, make for an ideal assistant for someone who does not have use of their limbs to operate common consumer electronics. Given that, Mills wanted to offer his own perspective about the value of the Apple Watch in his daily life.
Check out Travis Mills' take in the quick video below. If you want to learn more about his activities, foundation, and other ventures, check out
TravisMills.org
.
via: SSG Travis Mills (
Facebook
)