Purported third-gen Moto G pics leak, show dual-LED camera flash setup
25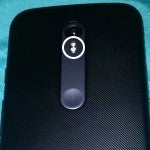 Yesterday,
a video of what could very well be the third-generation Moto G
showed up. The genie is totally out of the bottle, but instead of looking like a 19-year old Christina Aguilera, it very much looks like the Moto G we know and love. Today, we have a new batch of photos of the alleged device. They may not be the glorious high-resolution leaks our connoisseur buds have been accustomed to over the years, but they still provide a fortunate glimpse for Motorola fans.
The alleged third-gen Moto G runs Android 5.1.1 and has a model number "XT1543" As far as specs go, we once again have to go with what we got from the video. The Moto G apparently isn't due for a significant hardware upgrade. It's got a 64-bit quad-core Qualcomm Snapdragon 410 clocked to 1.4Ghz, 1GB of RAM, a 5" 720p display, a pair of front facing speakers, a 5MP front camera, and a — wait for it — 13MP rear cam with a 2-LED flash. It looks like Motorola is looking to push the Moto G deep into night photography territory!
Now, we don't really know when the new-gen Moto G is coming around, but seeing that the smartphone is out and about, we're betting our overheating chips on a summer release!