PureGear launches Retro Game Cases for Samsung Galaxy S4
11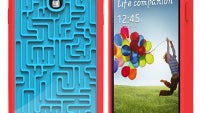 If you want a case with a twist and happen to own the Samsung Galaxy S4, you'd be pleased to know that PureGear has released its iconic Retro Game Cases for Samsung's 2013 Android flagship.
Each of the three cases comes with a retro maze on its back. There is a little metal ball that you have to guide through the maze in the Amazing, Groovy and Undecided cases. In the Amazing case you guide the ball from start to finish, in the Groovy one you have to lead it into the center and in the Undecided one it goes through obstacles giving a magical yes or no answer to your question.
The price for each is set at $29.99 and ground shipping is free. Take a closer look at the images, though, and you'd notice that it seems the speaker of the S4 gets blocked by the case. Check out the images of the cases right below.
source:
Pure Gear