Prynt is a case that will print photos from your smartphone instantly, with one really neat extra feature
8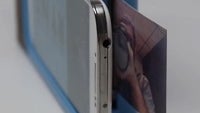 A pair of enterprising young developers from Paris have taken the idea of printing pictures to a new direction, and no, it is not simply a nostalgic solute to Polaroid.
Prynt is a case that will print a small, hard-copy of a photo that you take with your smartphone. That in itself is not a remarkable feat, though the size and form factor does show how compact such an apparatus can be.
The really cool part about this is how the companion app works when taking a photo. Like some other camera apps, Prynt will record a small amount of video around when the shutter key is clicked, and from there, the app can basically assign a physical token to the printed picture, enabling one to view the video.
If the printed picture is held in front of the camera while the Prynt app is open, then a superimposed "Play" button appears on the smartphone's screen where the picture is displayed. Selecting Play then shows the video that was recorded during the picture taking, embedded in the image space of the picture itself.
It is like a physical Snapchat of sorts, and one of the goals at Prynt is to create a capability where you can take a picture of one thing, and assign a video of something else entirely when the picture is held in front of the camera with the Prynt app running.
Prynt will launch a campaign on Kickstarter in 2015, with an early adopter cost of just $99. It will be designed to support Android and iOS smartphones with screens in the 4.x-inch range initially. Plans are already in the works to support phablets like the
Samsung Galaxy Note 4
or
iPhone 6 Plus
. The final product should hold up to 30 sheets of heat-activated ink-paper, and the process will take about 30 seconds, maybe longer if the connection is done via Bluetooth.
The team from Prynt will be at CES this coming January in Las Vegas, and we will definitely track these guys down to see this in action.
source:
TechCrunch
via
SlashGear