Chinese made Apple iPhone 5 cases multiply like rabbits
20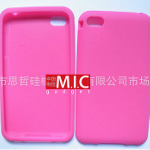 Because manufacturers of cases for the Apple iPhone need to know the specs well in advance to build up enough inventory prior to the launch of the actual device, these companies become a
great source of clues
to help us figure out what to expect from the next Apple iPhone. With the Apple iPhone 5 expected to launch in September, right on schedule
a leak of the schematic design for iPhone 5 cases
was discovered. The cases revealed that the next-gen model will have a curved back similar to the Apple iPhone 3GS,
a larger edge-to-edge screen
which keeps the size of the casing manageable while raising the size of the display, and a larger home button that will allow for gestures based control and navigation.
While M.I.C. Gadgets reports that
cases for the iPhone 5 are everywhere in China
, web site Alibaba.com is offering them for 31 U.S. cents per unit with a minimum order of 500 units. The cases being offered on the site are similar to the ones being produced from the leaked schematic design. One possible contradiction is that the cases show the camera on the back in the same location as the flash. Back in May,
we told you
that camera and flash parts allegedly from the Apple iPhone 5 revealed that both the lens and the flash would be apart from each other.
Over the last year, we have found leaked images of cases helpful in breaking stories on the
launch of the Verizon variant of the Apple iPhone 4
and the Apple iPad 2. Some of the information might have come from Foxconn employees, 3 of whom were arrested for allegedly passing on info on the iPad 2. A Chinese court sentenced two employees and one manager from the plant to prison. Each were
paid more than $3000 USD
to pass along digital images of the Apple iPad 2 in advance of an official announcement.
source:
M.I.C.Gadget
via
AppleInsider