Preview of the HTC Apache (or PPC-6700)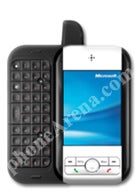 After we were first to introduce you information of the successor of PPC-6600 – the Apache, now we have a short review and some live pictures of it, thanks to an anonymous reader of Phonearena.com.
The phone has WM5, mini SD with 43.50MB of storage memory and 40.42 MB listed for program. The phone has been very responsive to the installed applications. I didn't load anything else on it since I only had it for a couple of weeks. PRL is 20212. CPU is PXA270 with speed of 416MHz, 64MB RAM and Flash size 128MB while the LCD is 240 x 320 pixels with 65536 colors. Largest capture size for the camera is 2MB with 1600x1280 resolution and it can capture video as well it also has a flash. It has bluetooth and WLAN. When you turn on the WLAN it doesn't shut off the phone like the Verizon i730. The phone is rather thick but with the bluetooth it hasn't been a problem to leave in the holster and answer the calls. Data connection is nice with the EVDO. Very fast speeds. You are able to turn on or off the bluetooth or WLAN from the main screen. When you slide the phone open to expose the keyboard the screen will auto flip to the proper landscape mode.
We expect it to begin shipping from Sprint, under the name PPC-6700. Still there is no official announcement of the device. We'll keep on informing you with the latest information about it …