Pretty in blue: the Huawei P10 Lite pops up in a new color across European retailers
1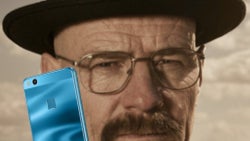 Huawei is keeping pretty mum about the
P10 Lite
. While its bigger siblings – the
P10
and
P10 Plus
got all the limelight, being the top-tier phones that they are, the little guy wasn't even
properly announced
before its pre-order scheme
started popping up in Europe
.
So, the Lite is a P10 on a budget — it looks like Huawei's flagship on the outside, but has had some corners cut on the inside to keep its price down. Unfortunately, the dual camera module is gone too, leaving it with a standard 12 MP shooter on the back.
The phone was announced last month and was available to pre-order in two colors — Black and Gold. A limited choice, yes, but nothing unusual for the midranger market. However, it seems the P10 Lite is about to get another outfit — one in blue.
We've already seen that color on the flagship Huawei P10 phone. It's actually called Shimmer Blue and has a very vibrant and reflective finish, making the paint job come alive. It's still a rather rare color, too — in 2017, everybody is busy making all-black (midnight black, sapphire black, black hole blackity-black) phones in order to follow... a new trend, so a new option is definitely a welcomed breath of fresh air — especially in the midranger segment, where choice is limited.
The P10 Lite is still available in e-stores across Europe for about $370-$375. It doesn't seem that the midrange P10 variant will be making an official appearance in the states. Sure, you can order an unlocked one online, but do be careful if it supports your carrier's bands.