President Trump's iPhone has no Safari browser, but it does have Twitter
99+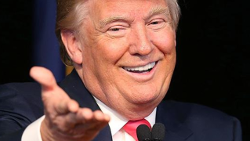 Back in February, President Trump could still be seen chatting from his old Android phone during a North Korea crisis meeting at his "winter White House" Mar-a-Lago estate, and that phone may still have been the
Galaxy S3
with a thick case that he has been known to use, and apparently kept after the inauguration. A group of senators then penned a letter to the US Secretary of Defense, claiming that Mr Trump's "old, unsecured Android phone" opens him to potential hacking.
The thing is, President Trump's secured device,
apparently an iPhone
, has pretty limited functionality, as all presidential phones do, and we all know how trying to deprive him of Twitter would end. Trump's iPhone now doesn't even have the Safari browser on it, reports the New York Times, but it does have only one app - Twitter. The White House staff is reportedly trying to keep him occupied with meetings and a heavy agenda, so as not to leave him time to watch cable news that often make him tweet out raw and unfiltered comments that are a source of endless discussion in the media.
His former adviser Steve Bannon even used to just deliver paper printouts from articles, since Mr Trump doesn't use a laptop and there's no Safari on his iPhone. Long story short, this presidency is unlike any other in recent memory, hence the secured presidential iPhone ended up running Twitter. The rest of its functions are remotely configured with Apple's Mobile Device Management software by Secret Service staff, but his Twitter app is obviously off limits.