President Obama's push for Net Neutrality leaves room for carrier control of wireless networks
25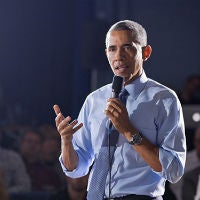 President Obama made big headlines today by formally asking the FCC to reclassify consumer broadband service under Title II of the Telecommunications Act, effectively making it a public utility, and ensuring Net Neutrality protections for consumers. The plan would mean no internet "fast lanes", no paid prioritization, no blocking, no throttling, and more transparency from ISPs. However, the plan does leave room for wireless networks to be separate from this.
For much of the president's statement on what he would like to see, he refers to cable and phone companies, and consumer broadband. However, President Obama does specifically note that he thinks "the FCC should make these rules fully applicable to mobile broadband as well, while recognizing the special challenges that come with managing wireless networks." And, it's that last bit that is slightly troubling in terms of Net Neutrality, because the internet is the internet, regardless of how it is delivered to users, and leaving the door open on wireless is a slippery slope.
Of course, it should be made clear that this is nothing more than a recommendation from President Obama, who fully admits in his statement that the FCC is an independent agency, and ultimately this decision is theirs alone." The recommendation carries weight, but that's all it is - a recommendation. We'll have to wait and see what the FCC will do.