President Obama burns the Note 7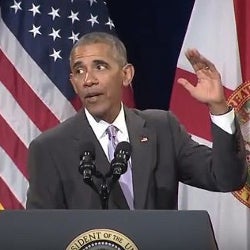 You know the situation might be lightening up when your misfortune has become the butt of the jokes for none other than President Obama, and Samsung found itself in just such a predicament. The President is known for roasting companies and individuals, himself included, on topics du jour, and didn't disappoint on the
Note 7
fiasco.
In a speech about the recent troubles that his signature "Obamacare" legislation has run into, he jokingly noted that it's been the Republicans' obstructionism that has resulted in an imperfect system that is a far cry both from what the left wants - a single payer system - and the free market reign that conservatives are clamoring for.
How to proceed with Obamacare? Well, just like Samsung did with the
Note 7's double recall
, apparently, otherwise we are all going back to rotary phones. Check it out.