Premature babies can develop healthier thanks to a Samsung app being developed
11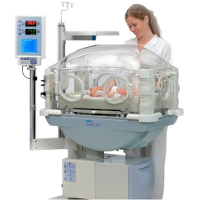 Advances in mobile technology have improved our lives in many ways. And yes, these advances go well beyond showing everyone what we had for lunch via an Instagram post. Take an app being developed by Samsung called "Voice of Life." With the app, a mother who has given birth to a premature baby records her heartbeat and voice. High frequencies are removed to make the resulting audio mimic the sounds that the baby heard while in the womb.
The recording is played on speakers located near the incubator where the preemie lives. Research indicates that a baby needs to hear the sound of his/her mother's voice in order for the brain to develop correctly. But for premature babies housed inside an incubator, this becomes very hard to do. And it also provides a comforting connection for the parents, who usually don't get much physical contact with their child in the first weeks and even months after birth.
15 million premature babies were born last year, which means that this app will no doubt touch many lives. There is no word on when it will be released, but you can check out the Voice of Life app by clicking on the video below. And for those people you know who consider things like smartphones and apps to be nothing more than a waste of time, make sure that they see this video too.
source:
SamsungNewsroom